Crazy Ass Value just for you!
Welcome to the EPIC AF Bundle.
I am sooo excited about this bundle as I know that it is something that you will get immense value and transformation from. 
Three Programs for the price of one!
Yes, you read it right, a 3-for-1 offer to completely revolutionise your wealth paradigm AND take the reins as the narrator of your legendary story. 
All three programs can be yours for just $3333 USD.
Awesome payment plans available.
Last year, I dived deep into a deconstructive process around colonisation and wealth. It was a 6-8 month journey into the stories, programming and conditioning that exist in the collective as a form of control.
Taking on a program that is designed to control and manipulate our fears around belonging, wealth, lack, scarcity, deserving and worthiness.
There were many layers of the onion to be peeled.
I am still going 🙂
The process was uncomfortable, I won't lie.
Eventually, on the other side, I could start to see the fruits of my labour. Freedom from financial control, the intention and belief that I create my reality and I am the narrator of that story. 
A new wealth paradigm from my own choosing is starting to expand in front of me. 
It is simple, opulent beauty and it is mine as I desire it and the intention and belief is this has come to pass.
My wealth mentor, Leah Steele is offering an incredible opportunity to get her signature program, Ouroboros VI at an Early Bird price and as a thank you until 21 August her foundational program Mastering your Spiritual Money Game.
Also, as a thank you to my awesome community, I am offering a BONUS program, QUANTUM COURSE CREATOR – Tech for Humans, merging the practical and esoteric to assist you in birthing a course/program in 4 weeks time. 
Not sure if you want to gain access to all this value and want to check out what Leah's transmission is like? 
Sign up to the Ouroboros waitlist. When you opt in you will receive over $7,0000 in free content, with no obligation to purchase. 
PLUS, everyone on this waitlist is going to get first access to the applications for her two week free program, the Ouroboros Initium. Link at the bottom of the page.
If you sign up for the waitlist as well as the bundle, the value is well over $15k USD. 
Much aroha,
Alison
This round is going to be different to ANY other round we've completed before! Ouroboros VI is going to be a deeper journey into creating wealth in ALL areas of your life, we will be deep diving into HOW money, wealth and abundance is connected with the chakras within each element and how aligning the wealth functions of the organs will expand your wealth consciousness to a level never seen before.
Quantum Wealth Repatterning is 4 months of deep introspective work that will change how you relate to money and increase your ability to manifest the wealth you deeply desire. While there is a mindset component to this work, this is NOT a 'MINDSET YOUR WAY TO MILLIONS' program. It is DEEP emotional clearing designed to deconstruct and neutralize conditioning and programming across multiple lifetimes, timelines and paradigms. This program is physical and spiritual in nature, working concurrently with the physical body (brain, organs and meridian systems) AND the spiritual body (mindset, chakra system, multi-dimensional timelines) so that you can call in all the PROSPERITY and ABUNDANCE you desire! The program uses a modality called Emotional Resonance Clearing that was based on and inspired by Five Element Theory and Philosophy, an over 4,000 year old body of wisdom and teaching.
This is 16 weeks of deep introspective work that will change how you relate to money and increase your ability to manifest the wealth you deeply desire.
The container starts on 22 October 2022.
Here is what you get:

Group Sheng Cycle Preparatory Clear

All NEW Paternal and Masculine Clearing

All NEW Maternal and Feminine Clearing

Element Based Wealth Expansion Clearing

Multidimensional Timeline and 13 Chakra System Clearing

Mindset Repatterning

Deconstructing Collective Consciousness Programming

Monthly Group Calls where you get interactive 1:1 time with us

Monthly Q&As

Two 1:1 Clearing Sessions

12months of The Wealth Activator Access
The 1:1 clearing sessions are a generational & timeline clearing sessions that will be performed by one of Leah's well-trained Wealth Alchemy Apprentices.
There is also a VIP Upgrade available. 
And we've lost our minds with this next piece!
Join as an EARLY BIRD until 21 August and Start your wealth expansion journey NOW.

We are giving you access to Mastering Your Spiritual Money Game starting 25 August 2022 (valued at $1,444) 
That's 6 months with us mastering your wealth repatterning!
Mastering YOUR Spiritual Money Game
MONEY IS A SPIRITUAL INNER GAME
Yes, I'm The Wealth Witch. But it hasn't always been that way.
Before I dove deeply into wealth consciousness work, I had a REALLY FUCKED UP MONEY STORY. (we are talking 67 INITIAL limiting beliefs I needed to work through).
I lived life held captive in a mind prison where EVERYTHING was scarcity and NEVER ENOUGH.
Until I had my FUCK THIS SHIT moment. (This is probably a good time to mention that if cursing bothers you, I'm not the mentor for you, and this is not the course for you!)
I finally got sick of my excuses and victim mentality and decided to do whatever it took to shift it.
I made commitments to myself, showed up DAILY for those commitments and I did wealth consciousness work like it was my J O B.
And I changed.
I shifted.
And then, eventually, after a LOT of work, personal accountability and reflection…
The Wealth Witch was born
I do money differently now…
My relationship with money is one of flow, ease, grace, and gratitude.
And the more I relate to money this way, the more of it I make.
Mastering Your Spiritual Money Game is one of my very first foundational wealth courses that I launched. It's near and dear to me as it's been monumental in the personal work I've done since I launched my business. As I grow, my business grows and so too do these programs.
Now as I sit here and watch as global chaos is on the rise again, it's become glaringly obvious why NOW is the right time for this program to be brought to the collective….
Once this information is released into my community- it's going to forever change the way wealth work is approached. I'm talking blow your mind- why haven't I heard about this any sooner?
The container starts on 17 August 2022.
Some of the magic discussed in the 8 weeks:

Deconstructing your money, wealth, receiving, worthiness, deserving and abundance programming

Identifying and clearing your current money identity.

Meditations

Mantras

Getting clarity on your WHY for rapid manifestation

Understanding Manifestation (or how to keep from manifesting shit you don't want)

Mastering the ultimate manifestations tool…surrendering

ERC Wealth Clearing

Group intention circle (one of the most powerful ways I have found to manifest)

The self-worth and negative self-talk correlation

Rituals

Feminine vs Masculine receiving

The Universal Law of Giving

The Universal Law of Compounding

Money tracking

The Art of Holding on Loosely
PLUS 2 new group calls and 8 new content sessions!
Get THREE Programs for $3333 USD (payment plans available)

The 3-for-1 bundle includes my program as a BONUS, when you sign up for the Evolutionary Wealth Bundle.
available until 21 August @ 11:59 PM EST
When you click on the button, you will be redirected to Leah's website to purchase the Evolutionary Wealth Bundle.
Once your purchase is finalised, I will be notified and send you the information for your BONUS Program, Quantum Course Creator.
Shazam, it's that easy!
(Please allow 24-48 hours to receive your BONUS access from me)
A new wealth paradigm of your own choosing awaits…..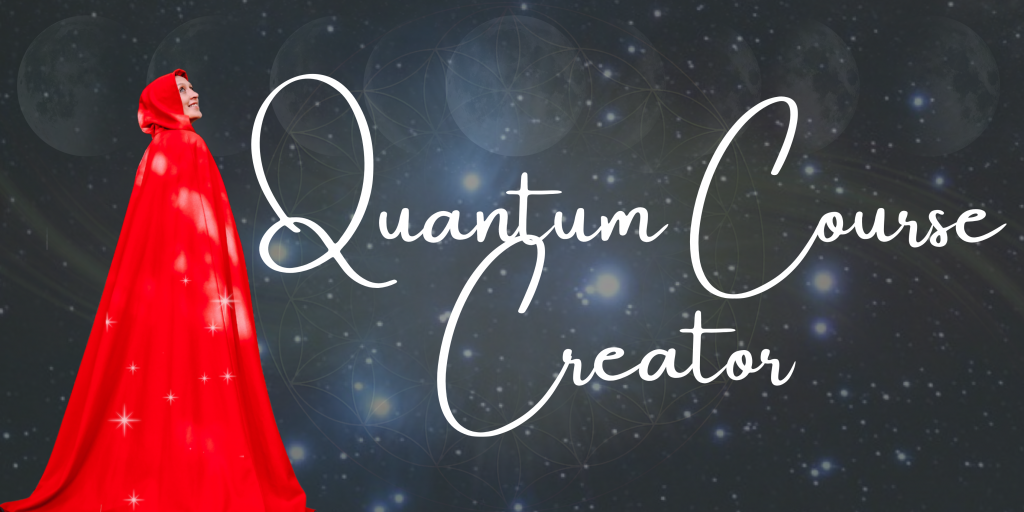 Do you have an amazing idea for a course/program but get overwhelmed by tech?
Analysis paralysis?
I have an amazing solution for you that will bring you more ease & grace with tech, so you can get your course out into the world.

Calling all woman artists, creatives, visionaries, healers, luminaries and shadow dancers!
I know that you have a  burning desire to get your service out into the world. 
I believe everyone has a course/program (probably many), but, tech is slowing you down.
I get it, the options can be overwhelming, been there, agonised over the choice. 
Trying to figure out which platform to use and how to navigate through all this tech shizz.
Best image files, payment gateways, carts, WTF is a landing page anyhow?
It all becomes too much and that amazing idea just sits on the shelf gathering dust, instead of being out in the world creating impact and wealth.
Another one of your amazing creations, not actualised…..BUT, what if….
WHAT IF there was a different story for you?
One where your creations are birthed with energetic integrity out into the world. 
Creating a current and ripple of impact far and wide. 
Allowing the flow of wealth & resources to circulate.
With this program you will be able to create an energetic container to house your brilliance.
You will sign up for a free platform, one that I trust and use myself (shut down that pesky analysis paralysis). I have tried many platforms and New Zenler has excellent features and functions for the free version, and more in the paid, if you choose to upgrade.
I will walk you through the entire process from creating a container with energetic intention, settings, payment gateway, (workarounds if on free version, to save you $$), graphic templates, building out the course content, sales/landing page and the cart setup.
I will also be there every week to help with any queries that you have on our live Q&A.
In four weeks, your baby will be out in the world.
SHAZAM! 
What will you get over the 4 weeks:

Free Platform to use with work arounds to save you money with payment gateways.

Pre-recorded video & audio transmissions

Archetypal allies for our journey

Weekly Live Q&A Calls

Walkthroughs of the platform from initial sign up to being marketplace ready

BONUS: Setting up a google calendar with content drops, calls etc

BONUS: Setting up automated emails for sending out course content, any live calls you decide and other communications

BONUS: FB Community for everyone that signs up so I can support you on your Ouroboros VI journey

Get the Evolutionary Wealth Bundle & my thank you BONUS (Quantum Course Creator) for $3333 USD (payment plans available)
available until 21 August @ 11:59 PM EST
When you click on the button, you will be redirected to Leah's website to purchase the Evolutionary Wealth Bundle.
Once your purchase is finalised, I will be notified and send you the information for your BONUS Program, Quantum Course Creator.
Shazam, it's that easy!
(Please allow 24-48 hours to receive an email from mw with details on your BONUS)
A new wealth paradigm of your own choosing awaits…..
Only want to jump on the Ouroboros VI waitlist?
I got you covered.
Sign up via the link below and receive amazing free content to the value of $7ooo USD.
For me, the deconstruction and resurrection of story is one of the main themes that has been running in my life. 
An awareness of the power of story and the capacity for me to be the sole narrator of my Legendary Story is awe inspiring. 
After decades of walking to another narrators beat. One that beats very loudly and tries to control me by drumming fears into the collective. 
I decided that the time was now.
Time to reclaim and liberate myself from these systems of overt and subvert control. 
The road was messy, the freedom sporadic. But on I continued.
This is not a legacy that I want to leave for the children of the world, so I continue on.
It is through the reclamation and power of story, that I have found my voice, my tupuna (ancestors) & my freedom. 
It is my intention, that you find it for yourself too. 
I also know the amazing and deep ride with Ouroboros VI will bring new ideas and inspiration into your field. 
What better way to create a new wealth paradigm, then to action this idea with a course or program. Creating impact and wealth for yourself. 
The three programs combined will be a powerful and profound way to rewire your money story AND take action in the world to start bringing your ideas to life. 
Let's do this together 🙂